Instead of having to give every "smart" IoT device (including light bulbs!) in the house a separate password and figuring out how to turn off the plug and play features of a refrigerator, Secaura does all the heavy lifting for people who are not tech-savvy or don't want to decipher a protection method that likens to the setup for an Ocean's heist film.
But this type of security is increasingly in demand, as the quantity of Internet of Things (IoT) devices in our homes increases and hackers are more and more adept at using them to access bank accounts through things as innocuous as a security crack in a thermostat (which seems a little obtuse, especially for someone still trying to set up their new Christmas smartwatch). Steel Mountain decided that a "Keep It Simple, Stupid" (KISS) solution called Secaura is the easy notion of a secure "aura" for all smart stuff.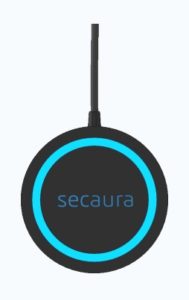 The idea is to use whatever router is already in use in the house, from basic whichever-came-with-the-internet-bundle to researched-this-router-for-months. The Secaura is a sleek little round thing that connects to that router, uses a phone app from Android or iOS to setup settings, and then does what it was purchased to do – protect all the smart stuff in the home. Done.
Yes, there are a few other options for keeping IoT home items out of the virtual hands of bad guys, but Gartner research says 20.4 billion IoT things are expected to live in our homes by 2020 (we have around 8 billion now) and most options are not being sought out due to price and/or complexity.
For example, Cujo ranks high for security but SafeSmartLiving reviews have shown it difficult to configure and even Amazon has a way to pay an extra $195 to get it expertly installed.
RATtrap is another highly-rated protection option for smart devices and such, but they slow down the internet connection and their "zero configuration" means just that – no control over configuring individual devices.
Bitdefender's Box was the frontrunner for protecting IoTs in the home, but reviews like the one from PCMag discuss issues with logging in and both seeing and managing devices, plus they had problems resetting their Box for new networks.
Co-Founders Thomas Maarseveen and Will Butler worked with Startup Yard to launch the Secaura concept for easy but customizable protection, finding that "just right" solution.
For the last 7 years, Startup Yard has been building their reputation of having helped 51 companies in all, 19 businesses to raise investments, 5 startups to get acquired, and a grand total of € 6,145,875 in total investments. 
And just for fun, are some cool smart home IoT videos that will show you some things you will definitely want, but that you probably won't want to think a lot about protecting: HGTV Smart Home 2017, Ultimate Smart Home Guide and Tour, and CNET Smart Home.
-This article was originally seen on Startup Beat.