All eyes are on Karachi as the eighth-most populous city in the world is about to be home to the Momentum startup and tech conference, Pakistan's leading entrepreneurial event.
Pakistan's startup and tech scene is exploding onto the global stage with an increase in foreign investment and home-grown startups.
According to the 021Disrupt Investment Roundtable White Paper released by The Nest I/O, Pakistan "is an opportunity too large to ignore," reported TechJuice.
Likewise, in 2014 The Next Web described that in 2011, the Pakistani tech ecosystem "was relatively nascent, with just a handful of organizations. Today, the space is unrecognizable and brimming with constant energy and activity."
Also in 2014, leading entrepreneur training and startup launch program the Founder Institute announced that it will "launch over thirty meaningful and enduring technology companies per year in the city" of Karachi.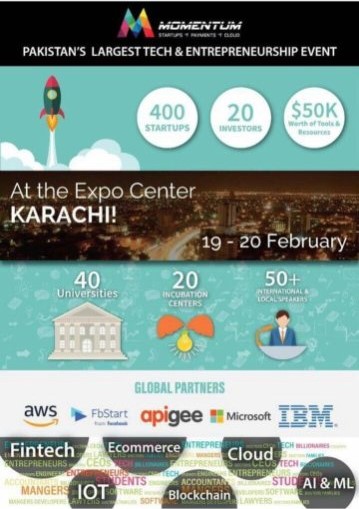 Now, over 15,000 attendees are expected to descend upon the Expo Centre in Karachi, Pakistan for the Momentum startup conference and exhibition.
Taking place February 19 – 20, Momentum will consist of some 400 startups, over 50 speakers, 50 exhibitors, some 24 investors, and representatives from 20 incubators.
Founded by Syed Amir Jafri, the main aim of the event is to help startups to get all the required resources to create a successful startup.
Momentum is a global startup community designed to educate, inspire and connect Pakistani entrepreneurs who work on innovative and disruptive technologies to create the knowledge economy to drive Pakistan's growth over the coming decade.
For the conference, the leading incubation centers and accelerators will be bringing their best startups to the event from all over Pakistan, while companies such as IBM, Enclude, Microsoft and Acumen are also strategic partner of this ECO system.
Check out last year's highlights in the below video: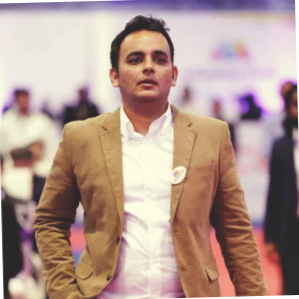 This year's speakers include:
And many, many more.
According to Newsweek, "Pakistan's fast-growing economy and, perhaps more importantly, large English-speaking population has provided a backbone to encourage startups to form and work with foreign companies.
The country has seen startup hubs form around elite universities in cities like Lahore and Karachi—similar to Boston and San Francisco—in the last few years."
This story originally appeard on StartUp Beat.