It is officially "crunch time" for gift buying this year. Most people have already crossed every one of their gift list this year, which means if that if you are still scrambling to come up with a few gifts for those difficult-to-buy-for people on your list, you can use the expert insight of Blueprint Registry. They have been watching this year's holiday gift trends and have identified the top five kitchen gifts trending on their gift registry site.
Lodge Cast Iron Skillet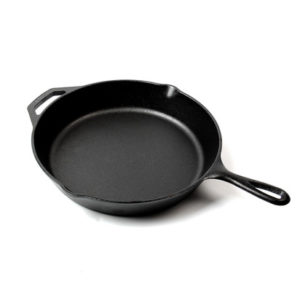 There are a few classic gifts that really never go out of style, and gift givers this year have been loving this cast-iron skillet. Pancakes, eggs, and bacon somehow taste extra hearty when prepared in a heavy skillet. Cast iron creates superior heat retention, heats evenly, and loves a campfire. Sauté, sear, fry, bake and stir fry to your heart's content, with the famous easy cleanup.
OSTER® Immersion Hand Blender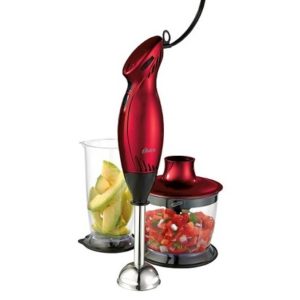 The Oster® Immersion Hand Blender is compact and versatile and everyone and their dog has been adding it to their gift wishlists. At 250 watts, the immersion blender has fingertip control and a durable S-blade design. Clean up is a breeze with the detachable rod, and your gift receiver is sure to love its smoldering style. And remember, when you give gifts that help your loved ones make food, it increases the chance that they will make you food in the future.
KAI Essential Knife Set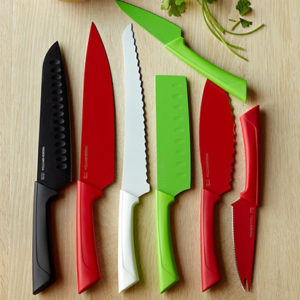 We might be able to take a stab at guessing why so many people want knives at the end of this chaotic 2017 year, but we will withhold comment…This color-coded knife series is made exclusively for Williams-Sonoma by KAI, one of Japan's largest and most historic cutlery companies. Comprised of seven essential knives, this set adds bright color to daily food prep along with super-sharp performance, lightweight handling and easy dishwasher cleaning.
Touchless Tare High-Capacity Glass Scale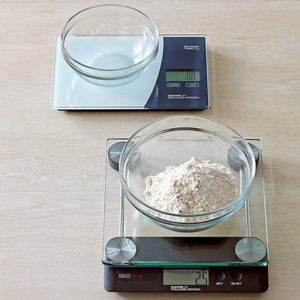 With its generous 30-pound capacity, this elegant scale is ideal for everything from weighing ingredients for a single loaf of bread or a season's worth of fruit preserves to calculating per-pound cooking time for the Thanksgiving turkey.
It tares with a wave of your hand—no need to press a button with slippery, messy fingers. The easy-to-read digital screen displays weights in 0.01-oz. increments, a fine calibration that's especially crucial for baking. Thanks to Salter's Aquatronic® feature, the scale precisely measures liquid ingredients too, minimizing the need for measuring cups.
Glass Herb Keeper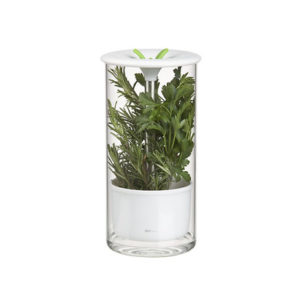 This last gift trend idea is a bit out of the box, but very "in a cylinder", if you know what I mean. This sleek smart system designed to fit on a refrigerator shelf or door keeps herbs fresh and green for up to two weeks longer than traditional storing methods. Th unprocessed herbs stand in a plastic water reservoir; silicone leaf topper allows you to lift and cut herbs without removing them from the glass canister.